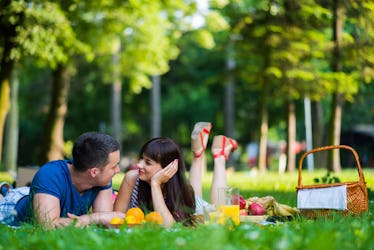 The Shy Girl Who Loves The Outdoors Will Be In Her Element On These Summer Dates
For anyone who loves the outdoors, summer is when you truly thrive. If you're looking forward to going on unique dates with bae this season, those temps might feel even warmer for you two. You may not face dates as boldly as you would a hiking trail, but you're in luck. I've compiled summer date ideas for the shy girl who loves being outside. You'll feel so in your element. Love is in the air, after all.
If you're on the quieter side, surround yourself with things (other than your date) that make you feel really comfortable. The outdoors may be one word, but it is an umbrella term for so many different activities and opportunities. Want to listen to the waves crashing on the shore, or the sound of a waterfall at the top of a long hike? These can all be worked into your summer plans with bae.
Nature will put you at ease once you choose one of your favorite settings for a date spot, and your true colors will be shining so radiantly. Mother Nature is not only providing a pretty spectacular backdrop for your date, but she's also helping you come out of your shell. With any of these date ideas, you'll learn more than a few things about yourself and what kind of dates work for you.