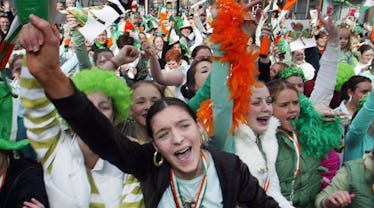 These St. Patrick's Day Memes Will Get The Party Started
Getty Images/Getty Images News/Getty Images
These days, holidays really never go untouched by the hilarity of memes. Memes are the comic relief that has been blessing the Internet for awhile now, and no one intends on giving it back to wherever it came from. With St. Patrick's Day right around the corner on Mar. 17, it's almost inevitable to anticipate green-influenced and pun-filled memes. Those St. Patrick's Day memes will never get old, and even if you've seen them during the holiday in the past years, they will still crack you up.
Memes really influence how we see, interpret, and make light of the world around us, and we are laughing all the way through them. Life is too short not to have a few laughs. Because of all of the occurrences that happen on and leading up to St. Patrick's Day, you can expect a plethora of depictions in memes. Some you can totally relate to, and others you're probably wondering, how the heck did someone think of something this funny?
Either way, we are so here for the way memes can make us laugh beyond compare. No one is safe from this hilarity, and these memes just allow everyone to loosen up and not take everything so seriously. You'll only be pitching yourself St. Patrick's Day after viewing these memes, because you'll be trying to understand how you landed in a dreamlike state of uncontrollable laughter. So sit back with your green beer and enjoy!