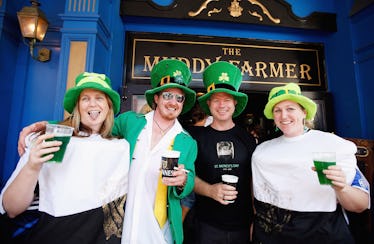 24 Captions For Beer Pics This St. Patrick's Day, So Shamrock & Roll
Hannah Peters/Getty Images News/Getty Images
St. Patrick's Day is right around the corner, and this means scrambling through your drawers to find something green, making plans to go out, and spending time with friends and family. Even if you aren't Irish, it's a time to celebrate. If you're in the 21 and up crew, trying a mug of that green beer has to #bless your 'Gram or Snapchat this year. And luck has nothing to do with how on point your captions for beer pics this St. Patrick's Day could potentially be.
Aside from all of the festivals, parades, and drinking that happens throughout the world on St. Patrick's Day, that's not how it all started off. According to History.com, back in the 17th century it started out as a religious day dedicated to feasting. Family is still a major part of the holiday and coming together is ultimately what should be the takeaway.
Unlike the variety of other holidays we have that involve family and food, St. Patrick's Day has certainly evolved, but it still carries those family traditions and feels. People of all nationalities really get into it, and it's very easy to point out four-leaf clover necklaces everywhere, if you happen to go out. So, if you're heading to the festivities this year and plan on clinking your glass of beer with fellow celebrators, be sure one of these captions is your only filter.
1. "That's right, there's free beer in Irish paradise. Everyone's jealous." ― Kevin Hearne
2. "Luck is believing you're lucky." — Tennessee Williams
3. "May your pockets be heavy and your heart be light, may good luck pursue you each morning and night." — Irish Blessing
4. "The best beer in the world is the one in my hand." — Charles Papazian
5. "Life is brewtiful." ― Unknown
6. "Take a pitcher, it'll last longer." — Unknown
7. "Next to music, beer was best." ― Carson McCullers
8. "Life is like a roller coaster, live it, be happy, enjoy life." — Avril Lavigne
9. "Good people drink good beer." ― Hunter S. Thompson
10. "Everybody's got to believe in something. I believe I'll have another beer." ― W.C. Fields
11. "Irish I had another glass of beer." — Unknown
12. "Wishin' you a pot o' gold and all the joy your heart can hold." — Irish Welcome
13. "Irish you were beer." — Unknown
14. "What life expects of us is that we celebrate." ― José Eduardo Agualusa
15. "Let's shamrock and roll." — Unknown
16. "Each day offers a reason to celebrate. Find it and experience true bliss." ― Amy Leigh Mercree
17. "Wishing you a pot of gold and all the love a heart can hold." — Unknown
18. "Beer, it's the best damn drink in the world." — Jack Nicholson
19. "Friends are the family you get to choose for yourself." — Mia Sheridan
20. "I prefer just being with people I like. That's my way of celebrating." ― Michael Jackson
21. "Enjoy the satisfaction that comes from doing little things well." — H. Jackson Brown, Jr.
22. "If I show up on your doorstep don't worry I'm just there to party." ― Kenny D. Eichenberg
23. "The purpose of life is to live it, to taste experience to the utmost, to reach out eagerly and without fear for newer and richer experience." ― Eleanor Roosevelt
24. "Life is either a daring adventure or nothing at all." ― Helen Keller
St. Patrick's Day is more than just a drinking holiday. If you happen to have the opportunity to join someone with Irish roots, you're lucky to have them.