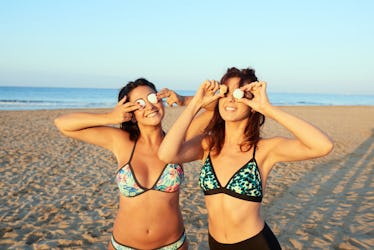 7 Subtle Seashell Tattoo Ideas, So Your Love For The Beach Never Fades
You're never too old to collect seashells at the beach. They're like the jewels of the sea that never fail to surprise you with their unique shapes and beautiful colors. It's always sad to part with those beloved beach days at the end of the summer, but there's a way to keep them with you always. If you're thinking of getting some new ink, consider any of these small shell tattoo ideas. That way, it's guaranteed that you represent those mermaid vibes wherever you go.
Keep in mind, though, that it is summer. According to Authority Tattoo, you shouldn't go swimming or take a bath for at least three weeks after getting your new tattoo. You'll want to consult with a tattoo artist about the proper care techniques, and if it's best to wait until the fall for new ink. You want your shell tattoo to be in tip-top shape for when you finally decide to debut it, so educate yourself on the upkeep.
A shell tattoo is perfect for matching with your bestie who is also your favorite person to beach bum it with. Whatever you decide, a seashell is going to look beautiful just about anywhere you place it. I'm no seashell expert or anything, but if you get anything like these seven examples, you're doing something right.