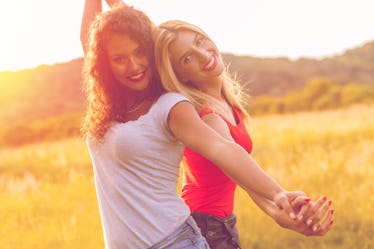 7 Telltale Signs Your Best Friend Sees You As "Their Person"
Ladies have this tremendous ability to build bonds with other women who aren't part of their bloodline, but still consider them family. If you're privy to Grey's Anatomy, you already know the depth and importance of having "your person." You'll realize there are some telltale signs your best friend thinks you're their best friend, just like Meredith Grey and Cristina Yang. Your relationship will seemingly blossom into the next stage of forever.
It is seriously that impacting to know someone in this huge world relies on you for emotional, physical, and mental support, all while keeping them true to who they really are. And to think, all you really had to do was be yourself to attract this amazing human being into your life. Pat yourself on the back, because with a gem in the form of a forever friend in your life, you are wealthier than you thought. This isn't discrediting the qualities of simply having a best friend, but being "their person" is a totally different ball game.
You may not have signed up for it, but once it's established, you wouldn't trade the privilege for the world. It's not like Costco sells "your person" certifications or something. Those golden qualities are all you. If your best friend has appointed you as her person, you've probably experienced these things.