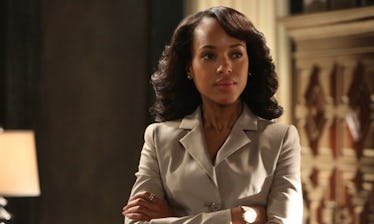 7 Shows Like 'Scandal' That You Can Still Watch With Your Red Wine & Popcorn
ABC
Gladiators, it's time to face the hard truth. Scandal's series finale is nigh. Yes — series. After seven seasons of badass crisis management drama and intrigue, the beloved Shonda Rhimes show will be ending its impressive run. But that doesn't mean there aren't other shows like Scandal out there to binge on that might just make up for show's permanent absence of new episodes.
Olivia Pope is hanging up her white hat for good and going wherever iconic TV characters go after they no longer get fresh on-screen material to steer the direction of their fictional lives. I like to think of a cozy utopia where Don Draper and Carrie Bradshaw sip cocktails together in the Cheers bar, Elaine, Carlton, and Urkel have a dance-off, and Tami Taylor is always mayor. Every so often the inhabitants might get a ring that they're needed in reboot-ville, but it will likely be a while (or an eternity) until Scandal is blessed with some sort of a revival. Until then, I suggest starting or re-watching a few key shows that might satisfy that Scandal fix.
1. The West Wing
Aaron Sorkin's walk and talk-heavy political drama is always a good idea. The Emmy Award winning series takes you inside the Oval Office and serves up no shortage of wit, charm, and whip-smart dialogue throughout its entire seven-season run. If you've never watched, prepare to be enthralled after the pilot. If you've already seen it, don't you think it's the perfect time for a re-watch?
2. The Good Wife
If you need more political intrigue and twisty government/legal plot lines on your screen, The Good Wife has got you covered. Not to mention, an ensemble cast of ridiculously talented actors helmed by Julianna Margulies, aka badass litigator Alicia Florrick.
3. Covert Affairs
Piper Perabo's Annie Walker may not be DC's most trusted "fixer" a la Olivia Pope, but she is a CIA field operative with plenty of tricks up her suit sleeve. Um, she's also a wildly perceptive language whiz who is trained in combat. Covert Affairs ran for 5 seasons on USA, but there might be a chance you missed it.
4. Suits
Yes — this is the show that Prince Harry's bride-to-be Meghan Markle is on. And it's totally worth your time if clever and layered legal dramas are your thing. The professional and relationship drama will reel you in, and the fun and fast-paced quippy dialogue will keep you hooked.
5. State of Play
Sometimes you need to look across the pond for TV greatness — how else would we have been blessed with The Office anyway? State of Play was made into a film with Rachel McAdams and Ben Affleck in 2009, but the compelling British miniseries that spawned it shouldn't be ignored. The thriller follows a knotty rabbit hole of an investigation into the death of a political researcher — the sort of plot that easily could have been woven into a series like Scandal.
6. Being Mary Jane
Being Mary Jane, which ran for four seasons on BET and will conclude with a 2 hour movie this year, focuses on a successful Atlanta-based news anchor as she deals with balancing her professional and personal life. Gabrielle Union plays the show's flawed, yet (sometimes) sympathetic heroine, a character that — much like Olivia Pope — we might not always agree with, but can't help but root for.
7. The Other Shondaland Shows
Guys, Shonda Rhimes is one of the most brilliantly prolific show runners out there. Just because Scandal is saying its goodbye doesn't mean there aren't countless hours of her shows to dig into. Grey's is still kicking, How to Get Away With Murder has more life, and there are always back episodes of Private Practice to get down with on a lazy Saturday. Oh, and lest you forget that her Netflix era is just getting underway. Make room for more favorites and save a bottle of red for the next great binge. Shonda's probably just getting started.