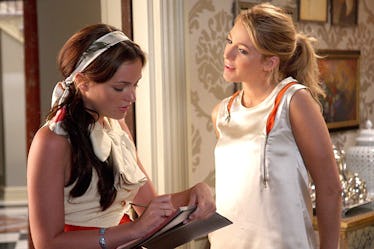 7 Shows Like '13 Reasons Why' To Binge After You Finish Season 2
The CW
There's nothing quite like 13 Reasons Why, so chances are you've already binge watched your way through Season 2 on Netflix. With characters this complicated and a plot so dramatic, how can you not binge watch the addicting series? If you've already finished Season 2, you may be looking for a few shows like 13 Reasons Why to fill that Liberty High-sized hole in your heart. Well, you're in luck: There are tons of great teen dramas available to stream, so no matter whether you're looking for something dark or something a little lighter (or something in between), you're sure to find an amazing series to binge.
Like I said: There's nothing quite like 13 Reasons Why — it became a massive hit for a reason — but these series come pretty darn close. Each of these shows has high school drama, timely story lines, compelling characters, and plenty of dark moments that will resonate with even the most die-hard 13 Reasons Why fan. After all, why re-watch 13 Reasons Why when you can binge a different amazing series? You can stream all of these series online, so if you're looking for a new show to watch, Netflix and Hulu are about to become your new best friends (as if they weren't already).
1. Gossip Girl
Honestly, I'm amazed that 13 Reasons Why hasn't included a plot line about a Gossip Girl-style stalker. There are plenty of creepy, stalker-y dudes in 13 Reasons Why (looking at you, Tyler), but no one takes it to the level of Gossip Girl, the Upper East Side's anonymous blogger who spends their days trying to ruin everyone's lives. If you haven't seen Gossip Girl yet, make sure you watch the entire series (all six seasons) before learning Gossip Girl's identity — it will make the final reveal so much better.
2. One Tree Hill
One Tree Hill was pretty much the OG teen drama. The show follows two half-brothers, Lucas Scott (Chad Michael Murray) and Nathan Scott (James Lafferty), as they compete in basically everything: basketball games, relationships, family life, you name it. One Tree Hill's core drama centers on these two brothers, but the show also focuses on the everyday lives of their high school friends. Over the course of nine seasons, the group graduates high school and college and moves into the real world, but somehow, the drama manages to follow — and it only gets more intense as the series goes on.
3. Riverdale
I will stan Riverdale to the day I die. If you're looking for the soap equivalent of 13 Reasons Why, look no further, because no one does ridiculous, over-the-top drama like Riverdale. Each of the show's two seasons (so far) focuses on a central mystery — the murder of Riverdale High golden boy Jason Blossom in Season 1, and a hooded serial killer in Season 2 — but as with any good teen drama, the mystery often takes a backseat to the characters' constant personal issues. Like 13 Reasons Why, Riverdale tries to tackle real-life issues, and in Season 2, the show included a story line about gay conversion therapy and a sweet coming-out story.
4. Skins
The British Skins is a hidden gem in this genre (the American version was good, too, but short-lived). The show follows six teenagers in England as they live their every day lives and go through regular high school drama: parties, relationships, drugs, family issues, etc. Each episode follows the perspective of a single character — much like Hannah's perspective drives 13 Reasons Why — giving viewers the chance to see what's really going on in their lives. While Skins was airing, it was widely considered a "controversial" show due to its portrayal of drug use, bullying, sex, and mental health — sound familiar?
5. Pretty Little Liars
Ah, Pretty Little Liars, the show that kept getting more twisted each season. Season 1 focused on the shocking disappearance of Alison DiLaurentis, but by Season 7, nine "A"s and a bazillion secrets made things way more complicated. The show officially ended in 2017, so if you haven't seen it (or stopped watching halfway through), now is the perfect time for a binge watch. Freeform is premiering a new Pretty Little Liars spin-off, The Perfectionists, in 2019, so as long as you're caught up by then, you should be A-OK. See what I did there? Sorry, sorry.
6. 90210
During the height of Gossip Girl, another show premiered on The CW that you may have missed: 90210, an updated revival of the iconic series Beverly Hills, 90210 (yeah, 90201 premiered way before reboots were cool). 90210 has everything 13 Reasons Why fans want. Pretty teenagers? Check. Never-ending drama? Check. Major cliffhangers? Check. A gorgeous California setting? Check, check, check. While some of the other shows on this list can get pretty dark, 90210 is generally much more upbeat (with a few exceptions), so binging it will be the perfect way to de-stress after finishing 13 Reasons Why Season 2.
7. The End Of The F***Ing World
Of all the shows on this list, The End Of The F***Ing World is by far the funniest. Not that Gossip Girl or Riverdale aren't funny, but they certainly aren't comedies like The End Of The F***Ing World. But to describe this Netflix Original as a pure comedy doesn't do it justice — it's a dark comedy that gets even funnier as the threat of death increases. The series follows a 17-year-old sociopath named James and the girl he wants to murder, Alyssa, as they run away from home. The two quickly end up in some hot water (there's plenty more murder to come), and they spend the second half of the series evading the police. Like 13 Reasons Why, The End Of The F***Ing World will keep you on the edge of your seat, and it's just as addicting. This show is like potato chips. Betcha can't watch just one.