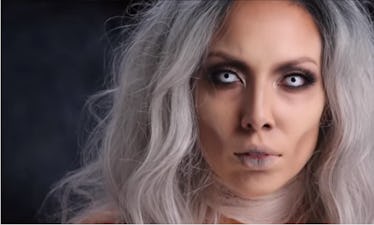 7 Sexy Mummy Costumes For Halloween That Aren't So Scary At All
Well, it's time to wrap it up... your entire body, that is. The mummy has returned, and I don't mean as some movie sequel. It's that time of year again where dressing up as a sexy mummy can ultimately be the start of a festively spooky night. Coming up with a list of sexy mummy costume ideas might not come first to mind, but the look is a great combo of enticing and memorable.
Mummies really aren't that scary, so it's easy to transform your costume into something sexy and fierce for Halloween. As long as you aren't intimidated by some heavy duty wrapping, you're on the right track. There isn't one way to be a mummy, so be sure to make it your own. It's certainly a time to be creative and unique in the spotlight.
A sexy mummy costume will have everyone crawling out of their crypt just to get a glimpse of what you've brought to life. Who knew that depicting something that's dead could practically be the life of the party? It's pretty funny how things work out. Anyway, don't get too set on the laying around mannerism of a typical mummy, because you've got your work cut out for you. These ladies may have been all wrapped up, but we are here for the way they slayed these mummy costumes.