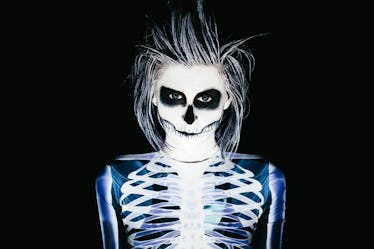 7 Scary Halloween Costume Ideas If You Want To Be The Spookiest Friend In Your Squad
All Hallows' Eve is on its way, and I'm sure your social feeds are already filled to the brim with costume inspiration. While you may take into consideration concepts like the best memes of 2017 or intricate group efforts to organize among your squad, it's the scary Halloween costume ideas this 24-hour masquerade was made for. Believe me, I'm all for a punny couple's get-up and emulating pop culture icons from the past, but spooky never goes out of style, and I can't be the only one that appreciates the genre.
Don't get me wrong, I totally modeled Disney princess dresses (not to mention one seriously permed wig to complete my Snow White ensemble one year), Dorothy's red shoes, a cheerleader's skirt, and a bright pink bunny suit through the years. But when I wasn't opting for cutesy costumes, I liked exploring the spooky side of dressing up: a dark enchantress, Hermione Granger (the Harry Potter series had some scary scenes, OK?), a skeleton, and, my personal favorite, the original Harley Quinn circa DC comics.
Honestly, what I really love is how creative Halloween as a holiday has become. It's not just a bunch of black witch hats and white sheets running around the neighborhood begging for candy anymore. These days, Halloween is bursting with expression, clever word play, and costumes honoring some of the greatest actresses, musicians, and politicians of our time. But I will forever have a soft spot for the ghoulish groupies walking around in horrific garb, spooking loved ones and strangers, and role-playing in the way the Halloween gods intended us to.
Have I successfully convinced you to come over to the spooky side? Check out these seven scary Halloween costume ideas and try them on for size because, let's be honest, everyone's got a dark side. This Halloween, let 'er out!