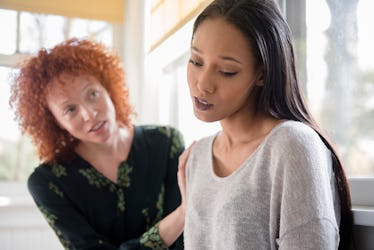 7 Subtle Red Flags You're Drifting Away From Your Hometown Friends In Your 20s
Dorothy was right when she said, "There's no place like home." No matter how far away you go, you will always have your hometown to turn to. Some of your best friends since childhood may even still live there, which makes going back even better. You made a pact that even though you were leaving for college or a job, you would remain friends for a lifetime. However, even the best of friends can become distant over time. The miles might not have been a problem before, but now, you may start noticing some red flags you're growing apart from your friends at home.
Drifting away from people is never easy, but it happens to us all at one point or another when we're in our 20s. You left town for a reason, and you're exactly where you're supposed to be in life. You just have to remember that friends come and go — this might even include the ones you expected to be in your wedding someday.
When you start to notice these seven red flags, you and your hometown friends may be drifting apart. There are ways to cope, and you will be fine. You will always be grateful for the time you did have together when you lived in the same place. Those friendships lead the way for even better friendships to come. That's your silver lining.