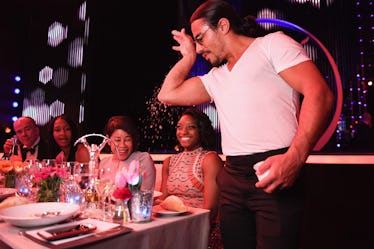 7 Punny Couples Costume Ideas That'll Make You & Your Partner Total Couple Ghouls
Stuart C. Wilson/Getty Images Sport/Getty Images
As a living, breathing member of society, three of the most important things to me are as follows: sleeping, Halloween, and puns. All of these things have the power to awaken my cold, dead heart if used correctly, and if I were to combine any of them, I'd probably be pretty f*cking happy. (What can I say? I'm easy to please.) So as you could probably assume, coming up with punny couples' costume ideas for Halloween is where my true calling lies. You're all welcome in advance.
Honestly, if these costumes don't help you and your partner win literally every costume contest you enter, I would like to formally apologize on behalf of the people judging those contests, who clearly don't have a punny bone in their body. Sad! But if you do win those contest, just don't forget about the lowly plebeians (i.e. me) who helped you get there. (And also don't forget to Venmo me at least 30 percent of all cash prizes you guys win. Thank you.)
Anyway, without further ado, here are seven of the absolute punniest Halloween costumes that you can do with a couple. Because a couple who makes super dumb jokes together stays together.