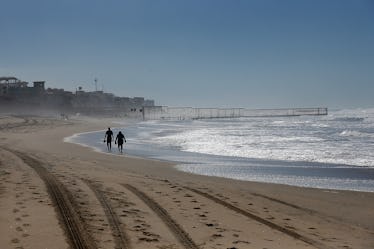 You Won't Need A Passport For These Amazing & Unique Spring Break Destinations
Justin Sullivan/Getty Images News/Getty Images
When most people think of spring break, they think of tropical Caribbean destinations with clear blue waters and sunny skies. But you don't need to head to a beach to have a proper spring break. You don't even have to leave the continental United States to have a great time, so long as you don't have your heart set on warm weather and sandy beaches. If you aren't looking to travel internationally, here are five places to go on spring break in the United States that are just as exciting as Cancun or Punta Cana.
There are plenty of destinations to explore for your spring break that don't require a passport. If you expand your options as to what you're looking to get from your spring break experience, you could wind up with a totally unique vacation. There's a lot more to see and experience that are outside of what you'd typically consider a true spring break experience.
It's not just about partying in a bikini all day and then clubbing at night. I did the typical Mexico spring break trip in college once. It was a ton of fun and I can wholeheartedly say that I would never ever repeat that experience again. So if you're a post-grad like me, or just not into that whole "spring breakers" scene, here are five alternative destinations — all located in the United States.