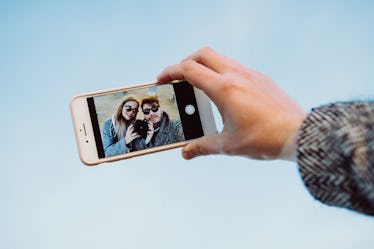 7 Pictures To Avoid Looking At After A Breakup, Because Sometimes It Hurts Too Much
Tell me if this sounds familiar: You're fresh out of a breakup, deep in the despair and heartbreak phase, and without even realizing you've done it, your hand — as if possessed — reaches for your phone, unlocks it, goes to the photos app and begins scrolling... scrolling... scrolling. Before you know it, you've been looking at photos of you and your ex and crying for an hour, one hand flipping through photos, the other robotically moving foodstuffs into your face. Yeah, been there done that. I wasn't worried about pictures to avoid looking at after a breakup, but I should have been, because that little emotional torture tango did nothing but prolong my suffering.
Don't be like me. Set down the phone, unfriend your ex, and start the healing process. While you can't block out their existence completely (if only, am I right?), there are some photos that you absolutely positively need to avoid if you want to give your poor wounded heart a break. Take it from someone who has spent plenty of time creeping on an ex's social media and regretting every minute of it: Don't do this. Instead, mute or delete your ex with extreme prejudice. And whatever you do, don't linger on any of these pictures in the process.