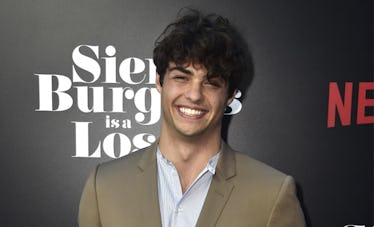 7 Noah Centineo Quotes That Show Exactly Why Everyone Is In Love With Him
Frazer Harrison/Getty Images Entertainment/Getty Images
Just about everyone is in love with Noah Centineo right now. And there are quite a few reasons for that. For starters, Centineo stole hearts with his role as the lovable Peter Kavinsky in To All the Boys I've Loved Before. Then, he garnered even more fans with his sweet portrayal of Jamey in Sierra Burgess is a Loser. Given how awesome Centineo is, I've compiled a list of his most swoon-worthy quotes. So, down below you'll find a bunch of Noah Centineo quotes that'll make you fall even more in love with him.
Between his good looks and charming vulnerability in interviews, Centineo is definitely solidifying his place among Hollywood's most desirable heartthrobs. And everything he's had to say over the past few months is giving fans even more to swoon over. Here's all the best quotes he's offered up in recent days.
1. On how his generation can be more romantic in 2018
During a red carpet interview with Sweety High, Centineo was asked how his generation could be more romantic. As it turns out, Centineo is a fan of dinner and coffee dates.
"Actually asking people out on dates, and taking them to dinner or lunch or coffee, or whatever it is," Centineo said. "I feel like my generation connects over the phone way too much, and it would be great for people to actually be there in person."
2. On knowing when something is meant for you and accepting when it's not
Centineo took to Twitter in August to share some wisdom about knowing when to accept that something (or someone) shouldn't be part of your life.
"My mom says we're like the sun and the moon," he wrote. "Just because two forces are great doesn't mean they belong together. The rhythm of the world is great because they are in their own orbit."
3. On how he encourages fellow actors in the audition room
In a recent interview with E!'s Daily Pop, Centineo recalled meeting Lana Condor for the first time and asking her to read lines before their audition for To All the Boys I've Loved Before. Although Condor rejected him, Centineo told Daily Pop that he likes to ask fellow actors to read lines.
"I ask people to read lines in the audition room if they look nervous! I was just like, hey, I could always run my lines," he explained. "It's always easier if you're running with a stranger before you do it with the casting director. It helps you get the nerves out. And if someone else looks nervous, then it totally is gonna help them too. If you can do it with some random person you just met, you can easily go into a room and do it again."
4. On his favorite part of working with Lana Condor
During a Q&A with Seventeen, Centineo was asked what he liked most about working with Condor. He, of course, had nothing but sweet things to say.
"It was definitely just developing a friendship with her as a person, getting to know her, what she wants in her life and the inner workings of it," he said. "But she's also such a giving actress, too. She made my job really, really easy."
5. On unconditional love
In Oct. 2017, Centineo tweeted about what it means to love unconditionally and his words are quite moving.
"Love has no requirements," the actor wrote. "Thats what makes it Love. If your Love for another carries requirements, it is not Love, but a counterfeit version."
6. On how he and his To All The Boys I've Loved Before co-stars lift each other up
During his Q&A with Seventeen, Centineo also explained that he and his co-stars from To All The Boys I've Loved Before still keep in touch. They all apparently do their best to lift each other up when they need it most.
"There is a To All The Boys I've Loved Before group chat," he revealed. "The last thing we talked about — it was so much love. It was like right before the premiere and we were all like, 'Oh my god! It's time! We're doing this! I'm so proud of you and I'm so proud of you and I love you! And I love you as well!' It was just like super, super loving and we were hyping up the premiere because we were all super nervous for it."
7. On using words to communicate feelings
In an interview with Vulture, Centineo got deep and talked about how words aren't always adequate to express how he's feeling.
"Things get lost in translation," he said. "To me, words convey feelings and feelings are just vibrations that we feel, so words are never as authentic as what feelings are and what intentions are."
Centineo is clearly a deep thinker with a heart of gold. No wonder people love him so much!