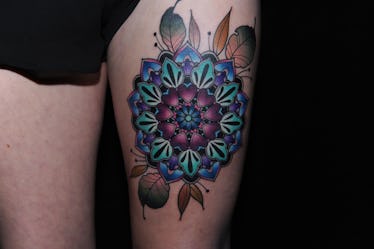 7 New Moon Tattoo Ideas To Remind You Of New Beginnings
Brad Barket/Getty Images Entertainment/Getty Images
The new moon is upon us, and this one is the last one we'll have in 2017, so it's important to make the most of it. Sure, you could go with the regular New Years resolution, or you could resolve to start your own new year with a brand new tattoo on the brand new moon. Here are seven new moon tattoo ideas you can use to honor your new beginnings, either by symbolizing what you've been through or what you hope lies ahead. They're wonderfully non-specific, too, so if things don't work out exactly the way you plan, you won't have a tattoo of a pile of money to explain to your friends and loved ones.
I've also stuck to tattoos of the smaller variety, but if you want a gigantic bird inked on your back spreading from one shoulder blade to the other, that is 100 percent your prerogative. Who would I be to limit your resolution? There's nothing quite as permanent as change, but a tattoo comes pretty close, so why not mark yourself with a symbol on this new moon of everywhere you've been, and everywhere you want to go. I mean, 2018 is on its way after all. We all need a fresh start.
The "Ain't No Mountain High Enough" Tattoo
I love the placement of this tattoo, because putting it on your foot symbolizes that there's nowhere your own feet won't take you. Not only does it symbolize the mountains you're willing to climb, but it's a symbol of all the valleys you've climbed out of before that.
The Busy Bee Tattoo
This tattoo is perfect for anyone who wants to step up their game in the upcoming year. If you're a natural procrastinator, you might need to channel the energy of a bee, or even of the Queen Bey herself. This will be your reminder.
The "Low Expectations" Tattoo
OK, so maybe resolutions are too much for you, and maybe your main goal this year is just to stay alive. Or maybe you just need a simple reminder to live your life with a little more pizzazz than you have been for the last 12 months.
The Messenger Tattoo
The new moon is a time to write down what you want for your life and to start taking steps toward making it happen. You write down what's yours on a sheet of paper, send that out in the universe, and refrain from worrying about how or where it's going to land. Like a paper airplane. See what I did there?
The Spiritual Tattoo
Maybe you want a tattoo that reminds you that this year, you want to focus on deepening your faith. It doesn't have to be faith in Christianity, obviously, this is just an example. But anything that reminds you to let go and let the universe take care of you (and a reminder of all the times you've done this before) will be a powerful way to honor yourself and your path in the new year, on the new moon.
The "I Believe I Can Fly" Tattoo
I've already mentioned that the new moon is all about where you want to go and what you want to do with your life. Why not get a tattoo of the built in wings you have to get you there? The best part? It's not a gigantic bird on your back, but you still get those pretty feathers.
The "I Want Love" Tattoo
So maybe you just spent a year not dating, focusing on yourself and keeping your eye on the ball in your career. You might want to try a tattoo like this one, a small reminder to you of what you want and a reminder that what you want is, after all, in your own hands.