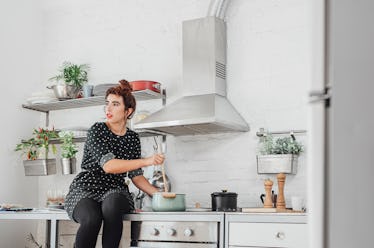 7 Lazy Health Hacks That Actually Work & Require Almost No Effort On Your Part
When you're trying to keep your professional and personal lives humming along, who has time for healthy living? Sometimes it can feel totally unattainable to create any sort of consistent or nutritious meal plan. When you get home at 8 p.m. most nights, or when you have to leave for work in the morning when it's just barely starting to get light out, how are you expected to cook up a delicious, nutritious meal for yourself? Luckily for everyone, there are plenty of lazy health hacks you can deploy in your everyday life so that your body gets the right fuel, and you don't lose the precious hours of your day.
When it comes to creating healthy meals in a short span of time, it's normal to have no clue where to begin. You might imagine (and become instantly overwhelmed by) chopping five different types of vegetables, trying to cook grains you can't even pronounce, or choking down an expensive juice to be your only options, and I think we can all agree these just sound exhausting and stressful.
No matter what type of food you're into, there's a healthy hack that will allow you to incorporate it into your life with as little time as possible. Here are seven lazy healthy hacks to help you get through even the busiest of weeks.