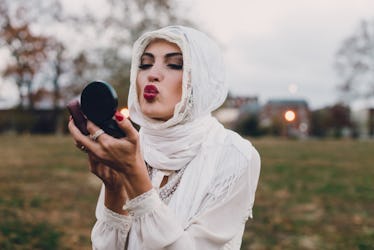 You Have To Master These Healthy Habits By 25 If You Want To Be A Real "Adult"
As much as I personally refuse to acknowledge this, turning 25 is apparently a milestone for adulthood. By 25, you're expected to be mature enough to survive out in the real world, to not only be making money, but saving money, and you're generally expected to be a more put-together human than you were at, say, 22. If this sounds as terrifying to you as it does to me (I'm five months away from 25, but who's counting?), don't have a full-blown, toddler-level temper tantrum about not wanting to grow up just yet. There are some healthy habits for adults that are easier to master than you might think, and incorporating them into your life will make you feel like you're moving forward, even if, on the inside, you feel like you have absolutely no clue what you're doing.
Look, it's never going to be easy to grow up, and yes, it's even harder when you realize your bathroom has to be scrubbed weekly or else it will turn into the upside down from Stranger Things. The point is, there's no turning back. The best thing you can do is continue to move forward and hope to make small positive changes as you go.
Here are seven healthy habits to adopt as you near that pivotal quarter-century age, even if you have nothing else in your life figured out.