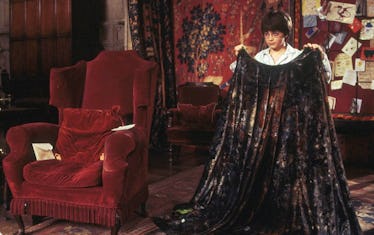 7 Harry Potter Gift Ideas For That Special Witch Or Wizard In Your Life
Warner Brothers
There are many movies in the world that are meant for the holiday time period. A Christmas Story, for example, or A Christmas Carol. In our modern era, the pantheon has been joined by the Harry Potter movies. Wait, what? Yes! There are so many Christmases at Hogwarts, the series is considered holiday fare. And it's also a great theme to shop for all those magical friends of yours. We've put together a short list of Harry Potter gift ideas that you can buy for friends and family.
Full disclosure before we begin: As a Hufflepuff, this list skews a little heavy in the cooking, potions, and friendly side of the gift list. There are no gag gifts here, nothing that could be considered cruel, or even risque. Harry Potter is an all-ages world, meant for everyone from age 8 to age 899. Of course, these things do exist, and if you want them, you can do a quick Etsy search (Etsy has all things Potter-based) and find them. But for our purposes, everything here is meant for children of any age, and those who believe in magic no matter how old they get.
On with the list!
Accio Coffee Cups
Coffee Cups, $9, Etsy
For the Wizard on the go who likes their Starbucks with a bit of butterbeer mixed in. This set of to-go coffee travel cups is perfect for the cupholder in the muggle van or the one on your broomstick. You can find them on Etsy from CleverHollyDesigns for $9 a pop. (That's about 1 Galleon, 14 Sickles, and 23 Knuts in wizarding money.)
Potions Mixer
Why make cookie dough when you can make magic cookie dough? Help your inner witch find her best magical life with these decals meant for a standard home upright mixer. You can find these decals on Etsy from the FineDecalShop for $20. (That's about 4 Galleons, 2 Sickles, and 20 Knuts in wizarding money.)
So Good Cutting Board
Cutting Board, $17, Etsy
Every wizard and witch spends time in the kitchen, even if they're not a Hufflepuff making delicious goodies. (Where else can a Ravenclaw properly invent new and useful potions?) Not only do they need a potions mixer, but they'll need a cutting board, whether for herbs and ingredients or for sacrificing small animals to commit dark magic spells. You can get yours custom engraved on Etsy from BungalowBoo for $17. (That's about 3 Galleons, 9 Sickles, and 2 Knuts in wizarding money.)
Deathly Hallows Jewelry
Deathly Hallows Jewelry, $10, Etsy
There is so much Potter-themed jewelry on Etsy. There's stuff that's based on the books and stuff that based on the movies, including everything for every Hogwarts house in three designs (book, movie, Pottermore).
Personally, I prefer designs that no witch or wizard can argue with, like this Potter-themed leather bracelet set with the Deathly Hallows, the snitch and the owls. You can find this piece and others like it on Etsy from HRTjewelry for $10. (That's about 2 Galleons, 1 Sickle, and 10 Knuts in wizarding money.)
Wand Makeup Brushes
Makeup Brushes, $10, Etsy
You know what's magic? Makeup. With just a few potions and spells, you can turn your face from it's normal self into a face fit for a glamorous witch. So, is the idea of wands as makeup brushes really so surprising? It's just being up front about what you're doing in front of all your muggle friends.
We're partial to the silver version of the set, which you can find on Etsy from ProStyleBeauty for $10. (That's about 2 Galleons, 1 Sickle, and 10 Knuts in wizarding money.)
Sorting Hat Bath Bomb
Sorting Hat Bath Bomb, $5 Each, Etsy
Never went to Hogwarts? Don't know what house you belong in? Not happy with Pottermore's answer? Never fear, just listen to Cedric Diggory's advice and take a bath. These sorting hat bath bombs claim they will turn the color of your house when you drop them in the water.
Now, I'm mad about the way Hufflepuffs get treated all over again. And Gryffindors now that I think about it. Who wants to bathe in blood?
You can find these bath bombs on Etsy from rudeandreckless for $5 a pop. (That's about 1 Galleon and 19 Knuts in wizarding money.)
Mini Book Ornaments
Mini Book Ornaments, $27 (set of 7), Etsy
And finally, what screams Christmas more than Harry Potter books? The best things in life hang from trees. That's why we recommend giving out these sets of ornaments to everyone. (They come in sets of seven, don't worry.)
You can find these mini book ornaments on Etsy from MichelleMaeInspired for $27. (That's about 5 Galleons, 10 Sickles, and 12 Knuts in wizarding money.)