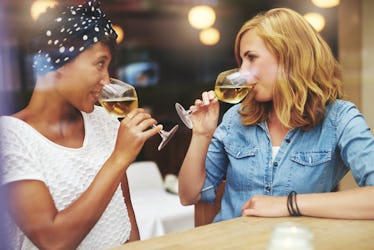 7 Gifts For Wine Lovers That'll Make Their White Christmas Especially Lit
When it comes to wine, there are two types of people in this world — the ones who simply drink it, and the ones who dream in red, white, and rosé. For those of us who are 21 and up and find any reason to drink wine, presents are quite simple. Finding gifts for wine lovers this holiday season is the easiest shopping you'll have to do, and your friend will appreciate the way you catered to their mini-obsession.
There are so many ways to accessorize wine, and all of them are pristine opportunities for you to wrap them up and present them to the wine lover in your life. As much as a bottle of their fave would suffice, you want to give them something that is fun and unique. You know, the same way no two glasses of wine are ever exactly the same.
It's time to show your wine lover that you not only value their friendship but also that you value what they choose to sip on (especially since they're usually sharing that amazing deliciousness with you). Even if you aren't incredibly into wine yourself (but let's not fool ourselves), spotting any of these gifts will instantly make you think of your friend — aka, the cabernet to your sauvignon.