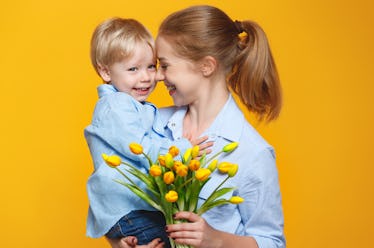 Your BFF Who's A Mom Will Love These Sweet Gifts For Mother's Day
Real talk: Your bestie who's a mom makes the world go round, and it amazes you. The two of you have been friends for what feels like forever, and to be honest, you were a bit worried that when she had a baby, you'd see a lot less of her or your relationship would change. Of course, she didn't let that happen. Instead, she somehow became even cooler. She can change a dirty diaper, clean the house, and decode your life's problems like the girl boss she is. How does she do it? She's the best superhero you know. That's why you're invested in finding the most perfect gifts for friends who are moms, to show her how much you love her on Mother's Day.
That's the dilemma, though, isn't it? What are you supposed to give her that will truly capture how awesome she is? It can't be a bouquet of flowers or a sweet handmade card, because those gifts won't cut it coming from her bestie. So, what's a gal to do? Well, I'm here to help you out. You'd be surprised what gems you can find out on the Internet. Any of these seven gifts will make the perfect surprise for your bestie who's a mom.