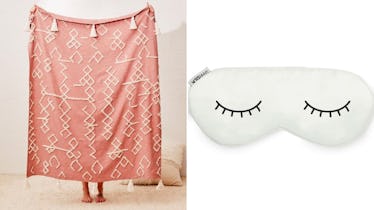 7 Perfect Gifts For The Non-Morning Person In Your Life, Because The Struggle's Real
Urban Outfitters / Shhh Silk
Ah, mornings. It's safe to say I don't get along with them, and probably never will. I set myself a minimum of five alarms every single day, because I know that I will hit snooze on the first few. If I have an early flight, I'd much rather stay up all night and sleep on the plane than go to bed and wake up early to leave for the airport. (I regularly sleep-yell at people who try to wake me up, and forget about it until they remind me later on. Oops!) If you have a special someone in your life who sounds a lot like me, you'll want to check out these gift ideas for non-morning people that are honestly perfect.
Now, I want to clarify that I am not, by any means, implying that these gifts will suddenly make your non-morning person friend, significant other, or family member, a morning person. But, they will hopefully make their 5 a.m. alarm much more bearable, and their entire morning routine a whole lot sweeter.
Check out these holiday gifts for all the non-morning people in your life. They'll be very appreciative — trust me!
1. This cute and sassy eye mask will ensure your friend gets a good night's sleep.
2. Any non-morning person will be comfortably snuggled up with this soft blanket.
3. A terry sweater that fits like a nightgown is any sleep lover's dream.
4. These hydrating sheet masks are necessary to get through early mornings.
5. The non-morning person in your life will love you so matcha if you give them this kit.
6. Wake the senses with this bold incense.
7. Any non-morning person can comfortably walk around the house with these fluffy slippers.