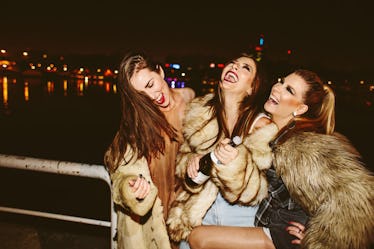 7 Friday Night Alternatives For People Who Are So Over The Bar Scene
Friday night is meant for unwinding from the week and fully embracing the next two days off. Like most girls in their early 20s, I like to relax with coworkers and friends over a drink (or two, or five). And because I'm a sucker for a lavish cocktail or fancy glass of wine that I can't pronounce, drinking usually requires me to visit a bar or club. But as I've gotten older, I've been on a constant search for Friday night alternatives for people who hate bars.
To be honest, I'm kind of over the whole bar scene. Every single time I've gone out in the past couple years, I've either been stepped on by a stiletto heel, had a drink spilled on me, had someone try to snag my Uber, or any combination of these things. Plus, the music is usually too loud to have a decent conversation, so why go out with friends in the first place?
Despite all of this, I still find myself wanting to go out on weekends. It's nice to have a night or two to just chill and let the stress of the week fall behind me, but lack of imagination leads to my friends and I to default to bars. And if my friends decide to not go out, we all just end up staying home and watching Netflix (yet again).
To replace a mundane — and quite frankly, unenjoyable — Friday night activity, here are seven stress-relieving things you and your friends can do on the weekends instead of going to a bar.