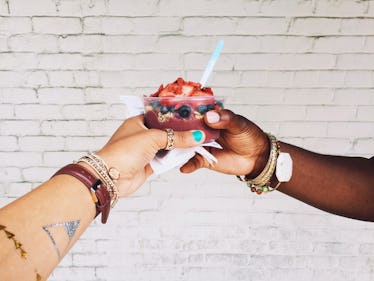 Science Says These 7 Foods Can Help Prevent Breast Cancer, So Eat Up
It's Breast Cancer Awareness month, my friends. Since this is a disease that affects one in eight women, it's not only important to learn about the condition, but it's also crucial to consider what you can do to prevent your risk of developing it. While it's known that breast cancer is caused by damage to a cell's DNA, it's not totally clear what necessarily causes that damage. There's evidence to support that lifestyle factors, genetics, and family history can all play a role in breast cancer, but the reasons why only some women develop it while others don't remain unclear. However, there is evidence showing that there are ways to reduce your risk — some of the obvious ones being to avoid things like smoking and excessive drinking. But another, possibly lesser known preventative measure involves how you eat. While your diet isn't going to cause or cure cancer altogether, there is research to support the notion that there are foods that prevent breast cancer, or can help reduce your risk.
A little research on what your food contains can go a long way in helping you add some nutrients into your diet, and lucky for us, they happen to taste totally delicious.