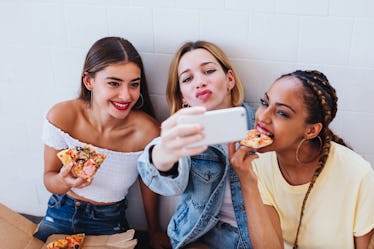 The 7 Foodies You Need To Follow On Instagram For Delicious Eats & Legit Health Advice
Scrolling through mouthwatering food photos on Instagram can honestly be downright arousing. After all, it's called food porn for a reason, right? But with so many foodies filling the social media stratosphere to the brim, it can be hard to decide who to follow (so that your entire feed isn't clogged with an aggressive amount of kale salads and matcha pancake stacks). Not to worry, friends: Within all of the culinary chaos, there are a few foodies to follow on Instagram who are truly diamonds in the rough. Trust me, these ladies are as real as it gets.
First of all, as lighthearted and uncontroversial as said "food porn" on Instagram can be, it's important to acknowledge that you should never base your dietary needs off of what someone else is eating. Unfortunately, there are many people on social media providing uninformed and unprofessional advice regarding nutrition (read: without actual degrees in the field), which is extremely irresponsible, to say the least. That's why, when choosing which foodies to follow, it's worth it to do a bit of research on the influencer beforehand to make sure your feed is filled with everything from sound dietary advice to a variety of mind-, body-, and soul-nourishing recipes.
The women behind these seven foodie Instagrams often serve up a heaping dose of knowledge, mixed with a dash of aesthetically pleasing, mouthwatering content. Some are registered dietitians, and others are passionate foodies, but all of them are doing their damn thing as influential women on social media and teaching you to find the joy in food, one post at a time.