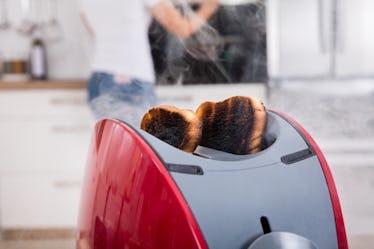 5 Times Foodie Influencers Made Big Mistakes That Didn't End Up On Instagram
Shutterstock
When New York City's Oddfellows Ice Cream Co. launched its pop-up carnival last summer, there was no doubt Priya Prabhakar would be one of the first influencers in the door. As followers of her Instagram account @food.drunk know, she's a bit of an ice cream enthusiast (so much so, another spot, Ice & Vice, actually named a flavor after her handle).
The wildly popular ice cream shop had taken up residence at Soho's Chefs Club Counter for the summer, where pastry whiz Sam Mason was transforming classic carnival fare into Insta-worthy cones. One by one, the limited edition specials came out: a swirl of salted caramel soft serve garnished with crunchy chocolate pearls and caramel corn, followed by Mason's grown-up creamsicle, tangerine-vanilla ice cream surrounded by an orange cotton candy cloud.
But as soon as Prabhakar stepped outside, the entire scoop toppled over. It felt a little like a movie moment — the one where time seems to stand still as an object falls in slow-mo, then dramatically crashes into the floor — but in reality, it took only a matter of seconds for the ice cream to go careening into New York City concrete. But luckily, because it was New York, few noticed the golf ball-sized scoop quickly melting underneath the summer sun.
"Mistakes happen all the time," says Prabhakar. "I always look at it as a work in progress and try to learn from my mistakes. I also try to shoot from a few different angles so I have backup options. I find that it happens more frequently with video."
A new cotton candy cone emerged thanks to the watchful eye of Oddfellows co-owner Mohan Kumar and this time Prabhakar — who apologized while trying to figure out how to clean up the mess — got to Insta her ice cream and eat it, too. A few days after the incident, a photo of the caramel corn soft serve posted to @food.drunk, and her 166,000 fans were none the wiser. "I love 🍦weather and I love @oddfellowsnyc's new popup @chefsclubcounter! ☀️" she wrote.
Prabhakar isn't the only influencer to encounter a food mishap. Instagrammers all have a bloomper reel, though their outtakes vary in degrees of #fail. For every artfully-arranged brunch flat lay or heart eyes emoji-inducing noodle lift, there are videos of unsuccessful cheese pulls, photos of cooking projects gone awry, and unflattering portraits snapped by an inexperienced companion or, in Jane Ko's case, an unsuspecting tourist or hotel staffer.
"Most times, I don't have a photographer with me, so I really rely on whoever happens to be right next to me," explains the bubbly globetrotting Texan behind @atasteofkoko. "It's often me setting up a tripod to get the right frame and getting all the pretty plates on the bed and checking the lighting and just having housekeeping come in and take a photo with me."
One of the shots will turn out Ko-approved and end up being admired by her 48,100 followers. But there are many more that don't make the cut. For a sponsored Krispy Kreme video, Ko walks into frame — the background is blush pink wall, of course — with a stack of boxes, then playfully juggles two lemons before taking a bite from a glazed donut. It's a playful and short clip, but to get that one 60-second video required a lot of takes and many not-so-successful lemon tosses.
"A lot of things can happen, especially if I'm traveling, but even here in Austin where I live, sometimes the food sits out too long and the desserts can melt [because of the heat]," she says. "I always ask waiters to bring cocktails out when the food comes out because ice cubes melt and the cocktail gets watered down."
When a drink goes from a vibrant to muted and the garnishes have wilted, it may no longer be Instagram material. The difference seems small in the eyes of a casual diner, but it's literally Ko's job to capture food at its juiciest, meltiest, most colorful state.
Instagram has been the hardest platform for Jenne Claiborne to master, though her 96,000 fans can hardly tell from the mouthwatering homemade dishes and workout snapshots on @sweetpotatosoul.
The vegan cooking star also runs a successful blog and YouTube channel. Because it can take hours for Claiborne and her fiance to create, style, and shoot a recipe, they try hard to avoid photo snafus.
"Just a week ago we had a shoot for some sweet potato burgers," she says. "We took dozens of photos, decided we didn't like the bread that I used, and had to reshoot with more photogenic bread the next day."
But even an unphotogenic sweet potato burger is no match for kids on the move. Just ask Mike Chau, the doting dad whose snapshots of his kids with food reach the eyes of 278,000 people. While he often turns what looks like a tricky moment into witty captions on @foodbabyny, having rambunctious 2-year-old Samantha and 4-year-old Matthew as his stars is a unique challenge in the food-'gramming world.
"It's definitely a chore at times, and it can vary in difficulty from very hard to impossible," he says. "There are definitely times when I literally have to chase Sammy and take hundreds of burst photos until I can get one where the food is in focus and she is fully in frame."
In one outtake video, Chau has a spread of new dishes from Made Nice, the fast-casual concept from the renowned Eleven Madison Park team, laid out on a table in the family's backyard. As he pans away from the food, you can see the brother-sister duo on their scooters ready to zoom by. Sammy — adorably clad in a puffy mint-colored jacket and Minnie Mouse helmet — scoots on over toward Chau, but has little interest in striking a post.
"They're in the phase where they love playing together and moving nonstop," he says. "Just tonight was a typical example where there was zero chance of getting them to stop and come to take a picture of some food I had on the table nearby."
Sure, Chau could make it easy on himself and snap a few quick photos while his kids are sleeping, but even he admits, "That's no fun!"
And there'd be no outtakes either.