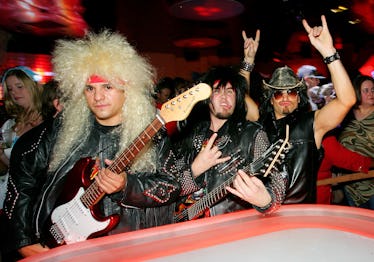 7 Famous '80s Couples Halloween Costume Ideas If You Want A Major Throwback
Ethan Miller/Getty Images Entertainment/Getty Images
The '80s were totally tubular. Or, I imagine they were. I spent my brief time in the decade drooling and dirtying diapers, but I'm a little sad I didn't get to hang out longer. I mean, even just the fact that people used the word "tubular" makes me have serious decade FOMO. I feel like the '80s were the frat party of the decades. From neon ski jumpsuits to casual cocaine use to earnest perms, people in the '80s did not give one F. This is definitely why the decade is still a theme for parties, and definitely why famous '80s couples make for righteous Halloween costumes. (Indulge me.)
I personally love a good pop culture reference when it comes to dressing up. Additionally, I think that throwing back to another time means you have less of a chance of running into someone with the same get up as you and your partner. (There will be so many Kylie and Travis Scotts this Halloween, but how many Martha and George Washingtons do you think you're going to see?) From very strange real life couples — shout out to Tom Cruise and Cher, Google it — to every adorable couple from every John Hughes moves — hello, The Breakfast Club — there are countless options for you and your partner to throwback this October 31st. Here are some of my favorites:
1. Madonna And Sean Penn
This is a fun costume that's relatively easy to put together. Grab a blonde wig to be Madonna, and sort of do a combover type thing. (Madonna had a LOT of different hairstyles in the '80s though, so don't stress this too much.) You can wear this bodysuit and jeans. Sean can wear a flowing wig and consistently run his hands through it, plus jeans and a white sleeveless tee. Now you're set to be the super famous, super weird duo.
2. Drew Barrymore And E.T.
The classic of all classics, Drew Barrymore as little Gertie and the cutest alien E.T. is a great couples costume. (Even though it's kinda weird.) For Gertie, wear a striped turtleneck under some overalls, and of course, add the pigtails with ribbons. Have your partner keep things simple and wear this mask and a brown bodysuit and practice screaming every time you look at bae.
3. Bob Ross And His Canvas
Bob Ross' soft spoken painting program was perhaps the most subdued part of the '80s. If you haven't seen it, drop everything and watch one of his videos now. This costume is fun because one of you gets to put paint on the other. For Bob Ross, you can keep it simple and get this costume (or, if your partner has a 'fro and beard, put him in jeans and a blue button-down) and then you can wear a piece of foam core and have your partner do their best work. Happy painting!
4. Samantha Baker And Jake Ryan From Sixteen Candles
OK, so Jake Ryan is a little vanilla, but Long Duck Dong was a super racist character and The Geek (Anthony Michael Hall) could be confused with any other geek from any other one of John Hughes' movies. Plus if bae wears this shirt tucked into jeans, and slicks his hair back nicely, you can dress up as Samantha (Molly Ringwald) at the end of the movie. Snag any pink bridesmaid's dress from a vintage store or Etsy (or maybe even your mom's closet?) and then grab a flower crown. (Bonus points for a cake and candles.)
5. Princess Diana And Prince Charles
Everyone and their partner has considered dressing up as Kate and Will, but the OG iconic royal couple was Princess Diana and Prince Charles. The best version of '80s fashion was for sure their wedding day. Prince Charles can scout vintage stores for more authentic military garb, or wear this "prince" costume, because the important part of this costume is Princess Diana's dress. Scour eBay and Etsy for the biggest sleeves you can find and there's your dress. Add a massive bouquet of flowers to complete the look.
6. Ferris Bueller And Sloane Peterson From Ferris Bueller's Day Off
Another John Hughes movie, because how could I not? For Ferris, grab a military beret, this sweater vest, and some '80s mens trousers from your local secondhand store. Top the look off with this leather jacket if you're super committed. You could put together the Sloane costume on your own, or you could buy this easy get up.
7. Nancy And Ronald Reagan
The "king" of the '80s (and now a president I look back longingly on, all things considered in 2017... ) and his wife, Nancy were actually very in love. They also seemed to be out on the town a lot. Have your partner wear a tux with a bowtie — renting is cool — and Nancy just needs a wig and an awesome '80s dress or skirt in blazer in red. Oh, and "just say no" all night.
These ideas beat your run of the mill spandex and side ponies, so get creative. Remember, pictures or it didn't happen, so grab a Polaroid, because iPhones weren't invented yet.
Check out the entire Gen Why series and other videos on Facebook and the Bustle app across Apple TV, Roku, and Amazon Fire TV.