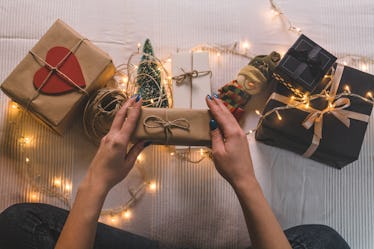 7 Unique Holiday Gift Wrapping Ideas That Are Anything But Basic
Now that you've totally nailed the job of Santa Claus and picked out the perfect gifts for your family and friends, it's time to start wrapping it all up. It's true that a fun wrapping paper print can go a long way, but if you want to switch up the basic paper and bow, there are many other creative routes you can go. You can definitely spice things up with some creative gift wrapping ideas for the holidays that'll show everyone you know what you're doing, on the inside and out.
You can also get kind of thrifty with your gift wrapping using some things you already have at home if you don't have the budget to go crazy at the store with glitter and bows galore. The goal here is to have everyone eyeing your presents the most as they sit under the Christmas tree, so here are seven holiday gift wrapping tutorials you have to try out. They're all pretty easy to follow along, so even those of us who are usually pretty bad with ribbon can nail it. Some of these ideas you can even use throughout the year for other occasions where you want your gift giving skills to stand out. Pretty soon, you'll be the gift wrapping guru who everyone will be looking forward to seeing. If Santa needs a new elf, he knows who to call.