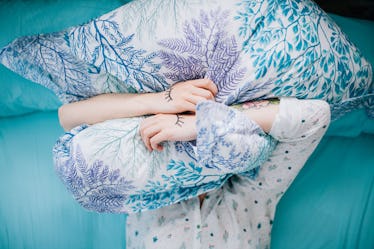 Here's How To Look Like You Got 8 Hours Of Sleep Last Night When You Really Got 5
What time did you wake up this morning? Better yet, what time did you fall asleep last night? At the risk of sounding like a broken record, you should always be striving to clock in around six to eight hours of shut eye per night, but if you really can't meet this quota despite your best efforts, there are tons of clever ways to look well rested in the morning. Trust me, I get it. Once upon a time, it didn't matter how late you stayed up gossiping with your roommates, or scrolling through memes on Tumblr; you could snooze until noon to make up for it. Then adult life happened, a dark cloud rolled over your circadian rhythm, and "sleeping in" meant waking up at 8 a.m.; crawling into bed before midnight was a victory. It's a sad reality, but what doesn't kill you only makes you more resourceful.
There are going to be mornings when you roll out of bed, stumble over to the bathroom sink, only to find that, when you look into the mirror, the image reflecting back at you is rough. Beautiful, of course, but rough. That's life sometimes, and rest assured we've all been there: bags under your eyes that are far from designer (more like a busted knock-off), red finger-shaped imprints on your left cheek, hair pieces flying every which way to complete the look. I wish I could tell you your soul won't feel as black as your morning coffee on days like these, but I'd be lying. The good news is, you can fake yourself awake by looking the part.
Whether you're super pressed for time (damn snooze button tempting you to push it five times in a row), or have a solid hour to spare before you have to get dressed for the day, don't sweat the exhaustion aesthetic. Over the years, women have mastered the art of looking wide awake when, really, they feel anything but, and here are a few fool-proof tricks to help you look your best even if you're not feeling it.