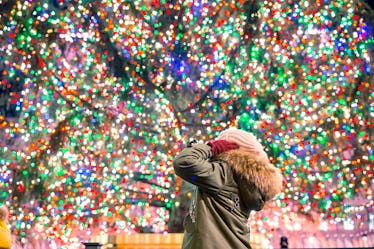 7 Christmas Things To Do In NYC All Month Long, Because The Fun Never Stops
New York City is the ultimate destination for Christmas lovers to retreat to. It's no secret that this bustling city goes all out with light displays and festive decor for the holiday season. There are Christmas trees that seem to touch the clouds, beautiful garlands wrapped around lampposts, and markets that will make you feel like you're in Europe. There's no shortage of holiday-themed activities to get involved in throughout December, either. Here are some of the best Christmas things to do in NYC 2018 all month long, because the fun never stops.
It's no wonder why people flock to The Big Apple year-round. You'll never run out of things to do, places to eat, or people to meet. NYC is full of life, and spirits are high throughout the holiday season. You'll see Santa on nearly every corner, Sunday brunch menus will transform into holiday brunch menus, and ice skating rinks will pop up throughout the city.
The city transforms to make all of your Christmas dreams com true. You might even witness a snowfall if you're lucky. Whether you plan to visit NYC for Christmas, or you live there already, there's something special for everyone to get involved in.