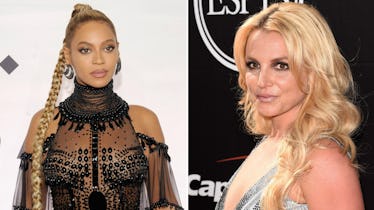 7 Celebrity Photoshop Fails That You Can Never Un-See
Brad Barket/Getty Images Entertainment/Getty Images/Jason Merritt/TERM/Getty Images Entertainment/Getty Images
Do you ever see a certain celebrity on the cover of a magazine and you have to look twice, because something just seems... off? That's usually thanks to a little thing called Photoshop, and sometimes, those who are behind the editing can go a little bit overboard. Often, the editing showcases unrealistic body standards. Other times, the editing is just — how do i put this nicely? — well, whack. We're talking added limbs, erased tattoos, and so. Much. Skin smoothing. And these seven celebrity Photoshop fails are no different. They will make you cringe, they will make you confused, and they will make you question the photo editors in charge of these images.
Vanity Fair's Hollywood Issue cover:
It's a beautiful thing when a magazine gives you not one, but two fails in one single issue. Each year, Vanity Fair releases its Hollywood Issue, which always has notable celebrities looking like royalty on its cover. This year's issue was no different. Shot by the famed Annie Leibovitz, A-listers like Nicole Kidman, Gal Gadot, and Tom Hanks were featured and, at a quick glance, everything looks lovely.
But this year's cover also had some celebrities that fell victim to some pretty unfortunate Photoshop editing.
Looking at it from a distance, the cover looks perfect:
A gold star for Vanity Fair. It's perfection, right?
Welllll.
It would be perfect, if not for a few things. And by "things," I mean "limbs."
1. Oprah's 3 Hands
So it's not technically on the cover, but a photo of Oprah, Reese Witherspoon, and Tom Hanks in the issue showcases our queen Oprah with a third hand:
One hand is on her hip, one hand is on her lap, and the other is around Reese's waist. Count 'em and weep.
Twitter would NOT let this mistake go:
And who knows? Maybe we'd forgive Vanity Fair for this small error, but then we saw...
2. Reese Witherspoon's three legs:
How... how did this even happen? When you look at Reese's legs, it's like looking at one of those trippy optical illusions. HOW MANY LEGS ARE THERE, REALLY?
Fans pretty much said, "same":
Even Reese was like, "OK, you guys, you've got me":
If this Photoshop fail taught us anything, it's that our girl Reese can get in on a joke.
Reese, you're an all-star.
3. Kim Kardashian on the cover of Complex:
New mom Kim Kardashian is pretty famous for her curves, so when Complex magazine ran an un-retouched version of Kim K on their website, she took to her own personal website to tell the world that she DGAF. She said,
So what? I have a little cellulite ... What curvy girl doesn't? How many people do you think are Photoshopped? It happens all the time!
She also added that she's "proud of [her] body and [her] curves," and felt that maybe this Photoshop fail might actually be helpful for people to realize that she's not always #flawless.
Here's the before and after:
4. Avril Lavigne on the cover of Maxim:
Maxim had to go an make things SO complicated. (Sorry, I had to do that.) Back in 2010, Lavigne was featured on the cover of Maxim, and the photo definitely turned heads. Not because Lavigne looked fierce (even though she totally did), but because fans noticed a large portion of her right arm missing. As in completely removed from the photo:
It's pretty hard to miss, and a lot of people pointed out that this Photoshop edit was basically a disaster:
So much for her happy ending.
That was the last Avril pun in this post, I promise.
5. Jennifer Lawrence on the cover of Flare:
Jennifer Lawrence is one of the most beautiful people in Hollywood. Yes, she's stunning, but she's also witty and hilarious and that's something I look for in a soulmate.
So why, oh why, did fans notice that it looks like Flare magazine retouched Jennifer Lawrence on their cover?
From her hair to her waistline, fans accused the editors of Photoshopping the hell out of J. Law:
Can we all just agree that Jennifer Lawrence should never have to be retouched?
K, thanks.
6. Britney Spears' Candies ad:
The unadulterated queen of pop needs absolutely no airbrushing. But sadly, the clothing brand Candies digitally altered Britney Spears for their campaign, retouching her skin, removing her tattoo, and cinching in her already small waist.
If you think these images were mysteriously leaked though, think again. It was the pop singer herself who released the before-and-after images, proving that she is pretty much the most awesome human to ever exist:
Seriously, why mess with greatness? Fans agreed that Britney looked just as slammin' in the original version of her images as the Photoshopped ones:
Whoever edited these photos needs to back off, because Britney needs no airbrushing. I repeat: NO. AIRBRUSHING.
Let Britney live.
7. Beyoncé on the cover of Harper's Bazaar:
We all love and adore Beyoncé. She's fierce, she's powerful, and she's got some killer curves. So when her 2011 cover of Harper's Bazaar showed Beyoncé with none of her iconic curves, fans were just a little bit confused:
WHERE IS THE REAL BEYONCÉ?
Look, we all love Bey. Fans love that she represents the powerful women everywhere:
It keeps me going, too, TBH. No editor should be allowed to digitally retouch Queen Bey. Ever.
So what did we learn today, folks?
That Photoshop is not your friend and you should love your perfectly, un-retouched self.
You are FIRE, and you don't need no Photoshop.