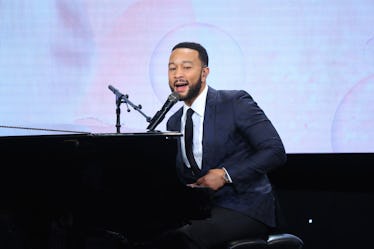 These Celebs Are Spreading Positivity During The Coronavirus Crisis With IG Live Concerts
JC Olivera/Getty Images Entertainment/Getty Images
Celebrities aren't letting the coronavirus crisis get them down. Despite many artists having to cancel and postpone concerts due to the pandemic, a ton of musicians are sharing their talents on social media to bring a little joy to the millions of people who are self-quarantined in their homes right now. They're also helping to raise awareness about the crisis and those in need. These celebrity Instagram Live concerts are just what the world needs right now.
Thanks to Global Citizen and The World Health Organization's "Together, At Home" campaign, stars like John Legend and Coldplay's Chris Martin have banded together to perform from the comfort of their homes. According to an Instagram post from Global Citizen, these "virtual no-contact" concerts aim "to promote social distancing and taking action for global health," and it seems like they're doing just that. Global Citizen's website reads:
Together, At Home is an at-home experience launched this week by Global Citizen, the World Health Organization, and a group of exceptional artists, working to use music to unify people around the world when they may feel isolated by the conditions of COVID-19.
Some artists, meanwhile, have simply taken measures into their own hands, promoting social distancing by posting videos of them singing a song, or working on their vocals, while isolated at home. The time and talent these stars are putting into these concerts is simply amazing. Check out these 7 Instagram Live concerts that will brighten your day below.