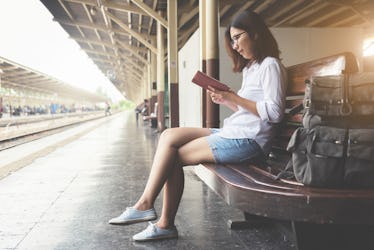 7 Books To Read While Traveling That'll Inspire Your Wanderlust In The New Year
Traveling never gets old and by this time of year, you're probably already jotting down new locations you want to visit as you welcome in 2018. Excuse us for wanting to explore every corner of this beautiful earth. Exploring involves some downtime, which means you need amazing books to read while traveling, so that you can hype yourself up even more for the journey ahead.
Honestly, you may even be on your way to one of the top places on your bucket list, and then you flip through the pages of a book and find that you're already packing your things for a new adventure. Books and reading are powerful AF, and in a way, they shape our wants, needs, and imagination. Oh, and let's not forget how relaxing reading can be in general.
Books can make us love places we have never been to, and inspire us to go there ASAP. If the words describing these places are so enticing, imagine what actually being there would be like? If you thought your bucket list was full before, a few books will have you filling in those empty lines.
When you're traveling, there's no need to let your mind stay still. With any one of these books, your imagination is going on a completely different trek than the journey you're on your way to.