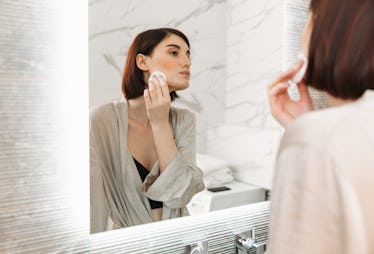 Traveling On The Reg Taught Me Which Beauty Products Are Worth Packing
Shutterstock
Throughout my frequent travels, it's safe to say I've left behind everything that could possibly be forgotten, from things as minuscule as cotton swabs to as important as my iPad. But as someone who also works in the beauty industry and identifies as something of a guru (read: product hoarder), I'm very careful and thoughtful about which items I pack in my makeup kit and toiletry bag. I've figured out the best travel beauty products that are actually worth bringing on vacay.
Don't get me wrong: If I could have my way, I'd bring my entire vanity with me on every trip. Since that's impossible, I have to settle for bringing what I absolutely need to have. There hacks to using other products that are super easy to find when I'm abroad — for example, using baby powder in place of dry shampoo — and while those substitutes might not be ideal, they're definitely better than nothing.
This is a list of products that are typically very specific to a person (that require some trial and error to find), and are difficult to switch out when you're traveling. If you're headed on a trip soon, make sure you pack these beauty essentials in your bag.