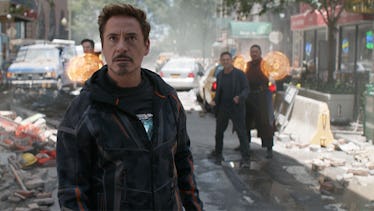 7 'Avengers: Infinity War' Theories That Will Make You Want To Buy Your Tickets ASAP
Marvel
For the Marvel Cinematic Universe's 20th film Avengers: Infinity War, the secrecy has been unprecedented. Unlike the other major arm of the Disney Universal franchise, Star Wars, Marvel hasn't been all that big on spoilerphobia, especially since most of their film plot points are pulled from Marvel comics that have been out for years. But Infinity War marks a new phase of secrecy for the MCU, even as it brings Phase III to its end. The lack of details has given rise to a ton of Avengers: Infinity War theories ahead of the film's release on April 27, 2018.
There won't be any answers until April 27, either — a date which was moved up in the U.S. to match the release date in the UK for the first time in Marvel history. Unlike their other films, Marvel is not screening Infinity War in press previews, lest the audience seat-fillers (who make it their business to attend such screenings) let secrets slip. The cast is also in the dark, with many insisting they only got partial scripts with just their parts. Those who do know the major spoilers, like the Russo Brothers, who directed the film, and Robert Downey Jr, who plays Iron Man, have put out public pleas to keep spoilers under wraps.
So, what sort of plot points could the studio be so desperate to keep quiet? Here are some of the most plausible theories.