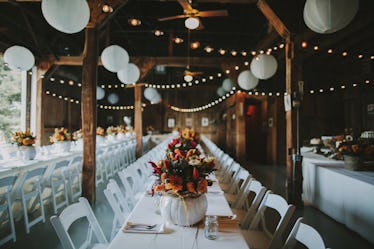 You Can Actually Get Married At These 7 Airbnb Rentals & They Are Beyond Dreamy
You read that right. Airbnb has wedding venues, too. You've probably seen the castles, tree-houses, and igloos that are available for use on the vacation rental site. Did you know you could find your dream wedding venue there as well? People are renting out their lush gardens, luxury villas, and royal castles to future brides. Some companies even offer full-service weddings so that the entire process can be stress-free. Sounds like a pretty amazing deal to me. These Airbnb rentals for weddings will make your special day so magical.
Most of us have been dreaming of our big day since we were little. We typically know what we want our ring to look like, where we want to get married, and what size we want our wedding to be — all before we've even met our lifelong partner. Funny enough, this doesn't make things any easier once it's actually time to start wedding planning. There are so many factors to consider, and it can all be so overwhelming, even for the most prepared bride.
Choosing a venue is one of the most important decisions a bride will make, because it determines the atmosphere and mood for the wedding. Don't worry, though. I've narrowed down a variety of venues that you can book directly through Airbnb.