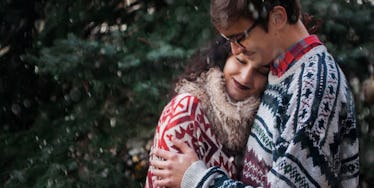 7 Most Adorably Romantic Holiday Cards To Give To The Love Of Your Life
If you're already found the perfect gift for your partner, you may be wondering if you even need a card to add in there, too. Well, I'm here to tell you that yes of course you need a card! Where else are you going to write up your inside jokes, talk about how much they mean to you, and give a little teaser about the present to come? For a guide, I've rounded up 2018 holiday cards for your boyfriend or girlfriend in case you need a little help navigating what card to get for them. While there's nothing wrong with giving a card from your local convenience store, the following cards are a little more unique — they're crafted by artisans on Etsy.
These cards all offer plenty of space for you to write in a message that will have your partner laughing out loud, shedding a tear, or altogether leaving them speechless because of your heartfelt message. That kind of reaction won't come just from a gift, so you want to make sure you personalize the present with a handwritten note inside of the card. So read on for some card selections, tailored to a variety of holidays celebrated this time of year.
Spread holiday cheer with iconic Supreme Court justice Ruth Bader Ginsburg, inspiring your partner to keep fighting the good fight. You can buy either by individual card or in a set of eight, in case you want to give this card to more than just your SO.
Show off your punny Jewish sense of humor with this Hanukkah card. This is definitely something your significant other will show off on their nightstand table or dresser.
Even though Drake is Jewish, we love this take on "God's Plan" for a Christmas card. If your partner is a big Drizzy fan, get them this card to put a smile on their face this holiday season.
If your partner celebrates celebrates Kwanzaa, consider this card for them this year. This option from Etsy has red, green, and black candles, and glittery gold flames. You can purchase one card, a set of five, or a set of 10.
For a classic and pretty Christmas card, this watercolor red and green design works to send to your partner if they're perhaps more traditional. The set comes with 10 cards, so you can choose this as your stationery of choice for the holiday season, in addition to giving to your partner, if you prefer.
Celebrate the Festival of Lights with the pun that certainly most Jewish people are making this year. Wrap your someone special a Hanukkah present with this funny card, and it's made to order, so feel free to customize.
If your SO loves cute little animals and Christmas puns, this is definitely the card for them. Finish off gifting their present by including this card in the bag.
Now that you may have selected the card for your partner, now all you have to do is think of what to write inside of it. Happy holidays!