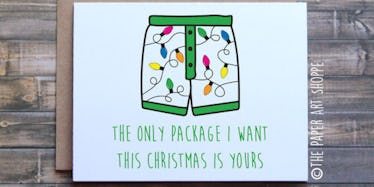 14 Naughty Holiday Cards That Will Make Your SO Laugh, Then Get Turned On
Etsy
You and your significant other are a lot of things, but boring is not one of them.
Obviously, you're not going to get them the same lame, boring card you're sending your Aunt Bernice in Vermont.
No, you need to give them a card spicy enough to reflect your fantastic relationship.
BUT WHERE CAN YOU FIND SUCH A SEXY, SPICY, NAUGHTY, HILARIOUS CARD!?
Don't worry, I've got you covered.
I have the 14 best naughty holiday cards to give your significant other lined up for you right here. AND I EVEN INCLUDED LINKS TO WHERE YOU CAN BUY THEM.
I know, I know, I'm too good to you.
"LET'S MAKE OUT"
Because isn't that what the holidays are REALLY all about?
Buy on Etsy for $4.25.
"You have me. SO I DON'T KNOW WHAT ELSE YOU COULD POSSIBLY WISH FOR BUT KNOCK YOURSELF OUT"
I mean, honestly, your selfishness astounds me. You already have the hottest chick in the game...
Buy on Etsy for $4.50.
"THE ONLY PACKAGE I WANT THIS CHRISTMAS IS YOURS"
That's right, I'm referring to your nuts and pretzel rod. Give me 'em — stat.
Buy on Etsy for $3.87.
"I Like Your Balls"
They're so... ~jingly~.
Buy on Etsy for $5.
"YOU MAKE ME WET. PS MERRY CHRISTMAS."
PS: That's not a bad thing.
Buy on Etsy for $2.87.
"ALL I WANT FOR CHRISTMAS IS YOUR COCK"
I want to make it doodle-doo.
Buy on Etsy for $4.25.
"I'll cradle your dreidel."
All. Eight. Nights.
Buy on Etsy for $4.
"I'D HAVE GOTTEN YOU A MORE IMPRESSIVE GIFT IF YOU WEREN'T ALREADY SLEEPING WITH ME"
I'm just overdoing it this year, basically.
Buy on Etsy for $3.87.
"Can't wait to jingle your BALLS"
And play with your sleigh.
Buy on Etsy for $3.60.
"CAN I SLIDE DOWN YOUR CHIMNEY?"
Into home base?
Buy on Etsy for $5.
"THIS CHRISTMAS I WANTED TO SEND YOU SOMETHING SEXY, BUT THE POSTMAN TOLD ME TO GET OUT OF THE MAILBOX"
My lingerie didn't meet the "not dangerous" shipping standards.
Buy on Etsy for $3.25.
"Nice balls. Well hung."
And with care, too!
Buy on Etsy for $4.50.
"All I want for Christmas is you. (and your PENIS)"
Pretty much sums it up.
Buy on Etsy for $4.25.
"MY GIFT TO YOU"
"It's my Dick in a box! My dick in a box, girrrrl."
Buy on Etsy for $4.50.
Alright, now you have no excuse for buying the boring "Merry Christmas" card you were eyeing over at Rite Aid this morning. That clearly won't do for your SO anymore.