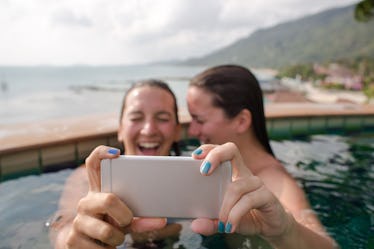 62 OPI Nail Polish Colors That Double As Clever Captions For Your Next Getaway
I think we can all admit to trying to capture the perfect Insta-worthy shot on vacation is a must. Sometimes it feels like you've waited forever to be in the destination of your dreams, so why not take an epic photo (or a few) to remember the moment? Sharing a beautiful photo is easy, but coming up with just the right caption can be the ultimate struggle. Should you keep it short and sweet, or should you go for something inspirational? There's no right or wrong answer, but these OPI nail polish color names might help spark inspiration for a caption to pair with your next travel photo.
OPI Nail Lacquer has long been known for its bright and bold polish colors. They sell a wide range of amazing colors from neons to pastels. The brand even has entire collections that are dedicated to specific destinations. With names like "Machu Peach-u" and "Somewhere Over the Rainbow Mountains," their recent destination collection will transport you to Peru. After a quick browse through their website, you'll find polish names dedicated to bucket-list destinations like Lisbon and many more. The names are simple, yet witty. They're basically the blueprint for punny captions that will your capture your inner wanderlust.
1. "Machu Peach-u."
2. "Somewhere Over the Rainbow Mountains."
3. "Como Se Llama?"
4. "Lima Tell You About This Color!"
5. "Alpaca My Bags"
6. "Love You Just Be-Cusco"
7. "Seven Wonders of OPI."
8. "Samoan Sand."
9. "Do You Sea What I Sea?"
10. "Cozu-Melted in The Sun."
12. "Super Trop-i-cal-i-fiji-istic."
13. "La Paz-itively Hot."
14. "Sun, Sea, and Sand in My Pants."
15. "That's Hula-rious!"
16. "I Can Never Hut Up."
17. "Getting Nadi On My Honeymoon."
18. "Chicago Champagne Toast."
19. "You're the Shade That I Want."
20. "Live.Love.Carnaval."
21. "Berlin There Done That."
22. "Lisbon Wants Moor OPI."
23. "Reykjavik Has All the Hot Spots."
24. "Turn On the Northern Lights."
25. "Icelanded a Bottle of OPI."
26. "This isn't Greenland."
27. "Suzi Chases Portu-geese."
28. "Now Museum, Now You Don't."
29. "Envy the Adventure."
30. "Summer Lovin' Having a Blast!"
31. "Frenchie Likes To Kiss."
32. "Don't Bossa Nova Me Around."
33. "Be There in a Prosecco."
34. "Suzi Nails New Orleans."
35. "Amore at the Grand Canal."
36. "Big Apple Red."
37. "An Affair in Red Square."
38. "Dazzling Dew Drop."
39. "Candied Kingdom."
40. "She's a Bad Muffuletta."
41. "No Tan Lines."
42. "I Just Can't Cope-acabana."
43. "Exotic Birds Do Not Tweet."
44. "Closer Than You Might Belém."
45. "No Room for the Blues."
46. "My Gondola or Yours?"
47. "Lincoln Park After Dark."
48. "Got Myself Into a Jam-Balaya."
49. "Living On the Bula-vard!"
50. "Crawfishin' for a Compliment."
51. "No Stopping Me Now."
52. "It's a Piazza Cake."
53. "In The Cable Car-Pool Lane."
54. "Vampsterdam."
55. "Pompeii Purple."
56. "Do You Have this Color in Stockholm?"
57. "You're Such a BudaPest."
58. "A-Rose at Dawn...Broke by Noon."
59. "Can't Find My Czechbook."
60. "Italian Love Affair."
61. "Gelato on My Mind."
62. "Alpine Snow."
63. "We Seafood and Eat It."
64. "A Red-vival City."
61. "The Thrill of Brazil."
62. "Bogota Blackberry."