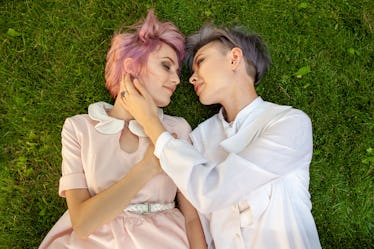 6 Zodiac Sign Pairings That Tend To Stay Together The Longest
Finding someone you like enough to date long-term can feel really challenging, especially if you've had a string of short-term relationships that didn't quite work out. It can be all too easy to find yourself wondering if long-term love is even in the stars for you, but here's the thing: The trick to a lasting relationship may, in part, actually lie in the stars. I'm talking about zodiac sign pairings that have the longest relationships, because they just click so well. These are the signs whose lives just naturally mesh, and their personality traits, values, and desires fit together like puzzle pieces. These are the connections that just feel like home when you find them. So, it follows that forming a long-term bond with that person would happen organically.
It's important to remember that any zodiac signs can find long-term love with one another. Astrology is not strict destiny, it's more of a gentle nudge or guideline that can help point you in the right direction toward someone you're likely to have chemistry with. For instance, if you're perusing a dating app, don't pass over people who aren't your astrological match if you feel like they could be a potential match. Just consider letting the stars take the wheel if you're on the fence about someone who is your astrological match, and see what happens. You never know who "the one" will turn out to be, but if you're looking for something lasting, there's a good chance these zodiac signs have what it takes to go the distance.