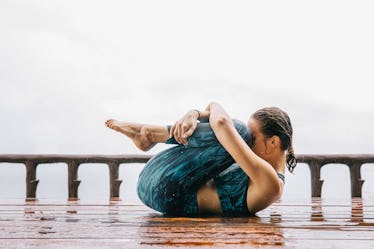 Rainy Days Can Be So Depressing, But These Yoga Poses Will Pull You Out Of Your Funk
Rainy days can really bring a girl down. I don't know about you, but when the weather's dreary, all I want to do is roll into the most secure and snug blanket burrito and hibernate for, like, 17 years. There's no rhyme or reason, but sometimes, the rain can just throw you into a funk, and it can be hard to crawl out from that yucky mindset. On days like that, rolling out your mat and flowing through some yoga poses on a rainy day will instill energy and vitality when you're feeling super "blah."
Don't get me wrong, though: It's totally fine to embrace your lethargy and nap the day away when it's raining outside — I've personally done that many times. But sometime you want to be productive, and it's just the weather that's bringing you down — that's when yoga comes in to help you instill some welcome warmth and energetic vibrations in both your body and your mind.
In addition to these six poses that will perk you right up, your yoga practice always serves as a reminder that the storm will pass and that everything is temporary. If you do flow through these poses and you're still feeling funky, breathe through the sensations, and remember that feelings are transient and passing — you'll be back to yourself in no time, just as the sun will come out again.