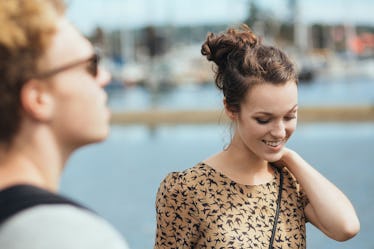 Here's How To Boost Your Confidence When Asking People Out IRL, According To Experts
I've never been very good at asking people out. I've tended to hold back, drop increasingly obvious hints, and then wait impatiently for the other person to make the move. I was just too nervous to just say what I wanted and take the initiative to ask that person out. While sometimes my method worked, I'll never know what could've happened and what opportunities I missed out on by being timid. If this is all beginning to sound a little too familiar, knowing a few ways to boost your confidence when asking people out can be a total game-changer.
If asking someone out IRL is something you're scared to do, Andrea Amour, founder and dating coach at UpDate Coaching tells Elite Daily you are far from alone in those feelings. "At some point or another, all of my clients have asked me how to 'hit on' people," says Amour. But she stresses that asking someone out isn't really as hard as you may fear. "In reality, in the digital age, people are craving human attention. We're all plugged into social media, podcasts, TV, and music, but we're all lonelier than ever. If you have the guts to actually open your mouth and say 'hi,' you're already differentiating yourself from a majority of the population," Amour explains. "And if you turn that 'hi' into a random conversation, the person you're talking to is going to think you're the nicest person in the world. No one talks to anyone anymore, which is, frankly, sad for everyone."
While that is definitely encouraging to hear, it still may take a little bit more to get you over the hump of actually asking someone out. In that case, here's how real-life relationship experts say you can boost your confidence, so that you're ready to make a move.