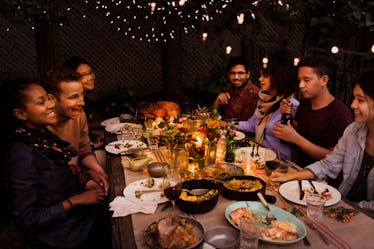 6 Tasty Vegan Turkey Alternatives You Need To Experiment With This Thanksgiving
Since the central dish of a Thanksgiving meal is usually a big ol' turkey, it can be challenging for those who stick to vegan and plant-based foods to enjoy the feast along with everyone else. It's probably not safe to assume that you'll be sitting down at a dinner table with vegan turkey alternatives to choose from, which means it's up to you to do a little digging and experimenting ahead of time to find a delicious recipe you can take along to your festivities and impress your loved ones with.
And hey, even if you're not living a vegan lifestyle yourself, you might have someone at your Thanksgiving dinner table who is, and I'm willing to bet they'd be absolutely thrilled to have more options to indulge in aside from just a few, boring, veggie side dishes.
Also, I think we can all be real with each another and admit that, oftentimes, the classic Thanksgiving turkey is super, super dry and, you know, not exactly all that tasty, at least not without drenching it in some gravy and mashed potatoes to mask the taste. So, that gives you all the more reason to consider trying some of these recipes that'll spice up an otherwise boring dish. Who knows, maybe you'll even inspire someone at the table to go full vegan after Turkey Day is over.