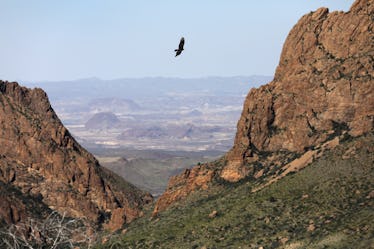 These 6 Vacation Spots Have No Cell Service, So You Can Really Unplug & Escape
John Moore/Getty Images News/Getty Images
When you think about spring break, the first things that come to mind are probably poolside parties in Cancun, neon-lit bars in Virginia Beach, or maybe a quick tour of some European cities. And yeah, you're likely uploading awesome photos of all those experiences onto social media — but simultaneously, you're also still receiving texts from your boss. Oftentimes, vacations keep you more connected to your everyday life than you want to be, which can leave you feeling even more exhausted than when you left. But what if you dared to travel to vacation spots with no cell service?
Sound a little scary? Well, it won't be when you realize you're free to roam your destination without screens, enjoy uninterrupted time at meals with your travel partners, and take in a sunset without a selfie — unless, that is, you bring an old school camera, and hey, why not?
While you could do something like stay at a hotel or resort where you must surrender all your phones and devices upon check-in, you can also intentionally plan to travel to a destination where there's simply no way to stay digitally connected — yes, even if you try to stand on a chair on a balcony with your arm high up in the air as you desperately try to send a text back to your boss.
Here are a few vacation spots around the world that have little to no cell service to inspire your own unplugged travel plans.