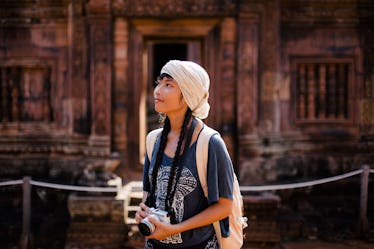 6 Underrated Destinations For 2019 That'll Take Your Bucket List To The Next Level
Nabi Tang, Stocksy
It's officially time to start creating your 2019 travel list. Whether you crossed off mostly every place on your list or have yet to scratch the surface, it's time to begin planning your travels for the new year. You have a fresh start to discovering new countries on your own terms and having experiences beyond your wildest dreams. So, grab your travel journal, open up your Pinterest account, and start to feed your wanderlust by creating a vision board. Here are six underrated travel destinations for 2019 that'll take your bucket list to the next level.
There's nothing better than kicking a new year off with a brand new set of goals. It's refreshing to look back on the past year, accept all that has happened, and move forward with a renewed sense of wanderlust. Travel is one of the best ways to learn more about yourself, and visiting a new place may broaden your perspective and give you a new outlook on life.
There are certain travel destinations that will never get old, but there are some places that tend to fly under the radar. These places can catch you by surprise and provide a new sense of discovery. They allow you to get off the beaten path. So, why not grab your suitcase and visit one of these under-the-radar travel destinations in 2019?