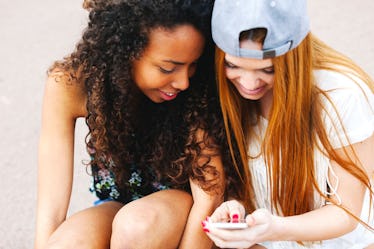 6 Times You Have Telepathy With Your Bestie & It's Always Right-On
You and your bestie are almost always on the same wavelength. You might have a different sense of style, but you have the same sense of humor, you spend so much of your free time together, and naturally, you know how to communicate with one another without even speaking. You have your "looks": one for when you both find someone attractive, another for when you're both getting annoyed with the same person, a different one for when you're both in the mood to hit the diner, and another for when you can totally finish each other's sentences. There are plenty of times you have telepathy with your best friend, and there's a "look" for each and every one.
You and your BFF are inseparable, so it makes sense that you can talk to each other without actually talking to each other. You have a weird way of communicating with just your eyes and eyebrows, and you can have an entire conversation without uttering a word. No one else understands it or gets it, but that's fine, because they don't have to. You both just know that you've got your secret code on lock, and you're the only ones invited to your exclusive club.
If this sounds like you and your bestie, you've definitely had these six moments of pure telepathy before. (And let's face it, these situations will probably happen again in the future.)