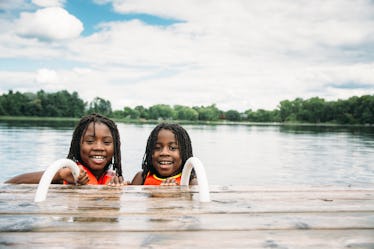 6 Things That Make All Sisters LOL If They Went Camping With The Fam As Kids
Going on camping trips as a kid was always such a blast. You knew when Mom and Dad said you were going on a camping trip, you were in for at least a week filled with delicious campfire pizza, your fave cereal on repeat, telling the spookiest of ghost stories, swimming in the lake all day long, and running around the campground causing trouble with your partner in crime (aka your sister). It was the top highlight of your entire summer, and you have countless memories of making s'mores and being incredibly mischievous with your sis that'll last a lifetime. The times you messed around while camping are just the tip of the iceberg of things that make sisters laugh, but these golden times will keep you busy reminiscing.
My sister and I went on our fair share of camping trips together. Whether it was our first time away from home at Girl Scout camp, going on week-long vacations with the fam high up in the mountains, or just heading to the campsite for a chill afternoon barbecue, we have countless memories that'll forever make us smile. Honestly, we could reminisce for days on end about the good times and all the trouble we got into. These six prime examples are just some of them.