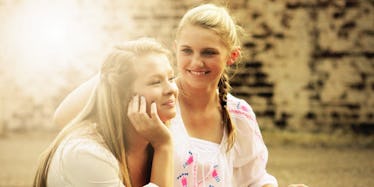 29 Ridiculously Relatable Memes That Were Totally Made For You And Your Sister
There's something about the sisterly bond that makes you both 100 percent, brutally honest with each other.
Because you both keep it real AF on the reg, you're not afraid to admit to the most embarrassing things you've done, or the bizarre faces you still give each other when no one's watching.
At the end of the day, you're always there for each other, because your sister is your other half.
We all know there's no better way to sum up your relationship than by sending your favorite, downright ridiculous memes back and forth to each other all day long.
When you're procrastinating at work, you two let the jokes fly without even thinking. Your text messages are actually a string of relatable memes, more than they are real conversations.
These 29 memes perfectly define what it means to be and have a sister; the good, the bad, and the really, really ugly.
Needless to say, the next time you're engaged in an epic #BattleOfTheMemes, send her one of these.
1. When Your Sister Literally Always Eats All Of Your Food
2. When You Have To Race For The Bathroom In The Morning
3. When Playtime Went Way Too Far
4. When She Gets Yelled At Instead Of You... #OOPS
5. When You're Sick Of Sharing Your Cookies With Her
6. When Everyone Just Knows You By Your Sister
7. When The Never-Ending Fight For The Remote Resumes
8. When Your Sister's Rough AF Touch Leaves You With Battle Scars
9. When You're Reading Her Diary And Try To Not Get Caught
10. When She Slips Up And Low-Key Acts Nice
11. When You're Equipped With Major Dirt On Her
12. When Your Stuff Is Never Just Yours
13. When Your Relationship Is A Delicate Balance
14. When You And Your Sister Are Ride Or Die
15. When You're Kind Of Sick Of #TheTwinLife
16. When She Takes Things To The Extreme
17. When You Stop The Betrayal In Its Tracks
18. When She Always Has Something To Say
19. When You Get Free New Things And It Feels So Freaking Good
20. When You Laugh At Her Horrid Jokes For Your Benefit
21. When You're Stronger Together
22. When It's Time To GTFO Of There
23. When Dad Doesn't Give Two F*cks
24. When You Never Get To Be The Best Character
25. When Her Revenge Is Just Too Much
26. When People Use You To Get To Her
27. When You're In A Silent Fight
28. When You Attempt To Play It Cool
29. When She Never Closes The Door