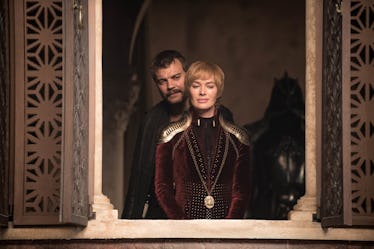 6 'Game Of Thrones' Theories About Cersei's Death That Are Too Much To Handle
HBO
Did you think the fight between the Night King and the living was a battle for the ages? Game of Thrones was just kidding with that. There is now another battle looming, and this one will be conducted in broad daylight so everyone can see what is happening. The Battle of King's Landing is going to take out most of the characters who lived to see it, with many fans putting money down that Cersei won't come out of it alive. These theories about Cersei's death on Game Of Thrones prove there are a lot of suspects to take down the Mad Queen, at least the one on the Lannister side of the board.
The good news is that there are a few candidates who can be removed from the equation. Euron, for instance, almost certainly won't go nuts and kill Cersei. The Mountain probably won't kill her, and neither will Qyburn. All have proven themselves fully loyal. Also, Varys can most likely be struck from the list, he's too busy plotting to have Jon Snow, ahem, Aegon Targaryen, take the throne when all is said and done.
Also, Sansa will almost certainly not be the one to take Cersei down despite what some hoped. But Sansa is a player, not a killer. The latter is Arya's department.
Speaking of which, here are the most likely candidates.