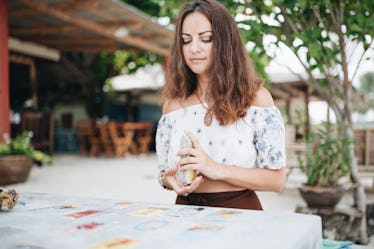 Keep An Eye Out For These 6 Tarot Cards That Could Mean Trouble For Your Relationship
Have you ever had a moment in your relationship when your gut made you feel like something was off? Or maybe the relationship was fine, but you were worried about where it was heading. Both of these scenarios are perfect situations where a tarot reading may be really helpful, because the reader knows which cards bode well for your relationship, but also, the tarot cards that mean bad things for your relationship. In some cases, they may also be able to give you suggestions about what you can do to get things back on course.
Expert tarot reader Angie Banicki explains that tarot cards basically represent a snapshot of the energy of your relationship in the moment, if that's what you ask the cards about. "They are connecting to your soul at the moment of the question and pull of cards, and are providing you an examination of the energy and message of the relationship and future and how things are headed," she tells Elite Daily. "For example, the message might be [that] there is a very real need for compromise now, and if it's not found, this relationship cannot survive. Or they might show the person asking how they should be observing their own journey in terms of past relationships and readiness for a deep dive into the next."
If you're feeling lost in your relationship, this kind of insight can be incredibly helpful. However, if you are going to the reader concerned about the state of your relationship, there are a handful of cards to be on the lookout for, as they can be a sign of trouble. Here are the cards the experts say they don't want to see.