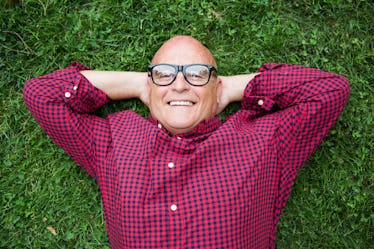 6 Women Share The Sweetest Stories About How Their Dads & Partners Bonded
When my prom date showed up to my house like we'd planned to do before the dance, he had his tie and pocket square in hand. I was too busy getting ready to ask why he wasn't wearing either of these items, but my dad did. He confessed to my dad that he didn't know how to tie a tie and that he had even less insight as to what to do with the pocket square. Little did I know, my dad spent the next 45 minutes helping him with both. I imagine dads have bonded with their daughters' partners more than they've tried to scare them away, which is often just the funnier story to tell.
TBH, I've seen my fair share of movies that tell that story, like Meet The Parents starring Ben Stiller, Guess Who starring Ashton Kutcher, and even Disney Channel's My Date With The President's Daughter starring Will Friedle. The truth is, though, none of these movies resembles my actual dating experiences. My dad has always been excessively friendly and sometimes fatherly to my boyfriends, even going so far as to give them life advice and helping them with their job searches after graduation. Sure, dads have their own ways of bonding with their daughters' partners but that doesn't mean it's any less sentimental.